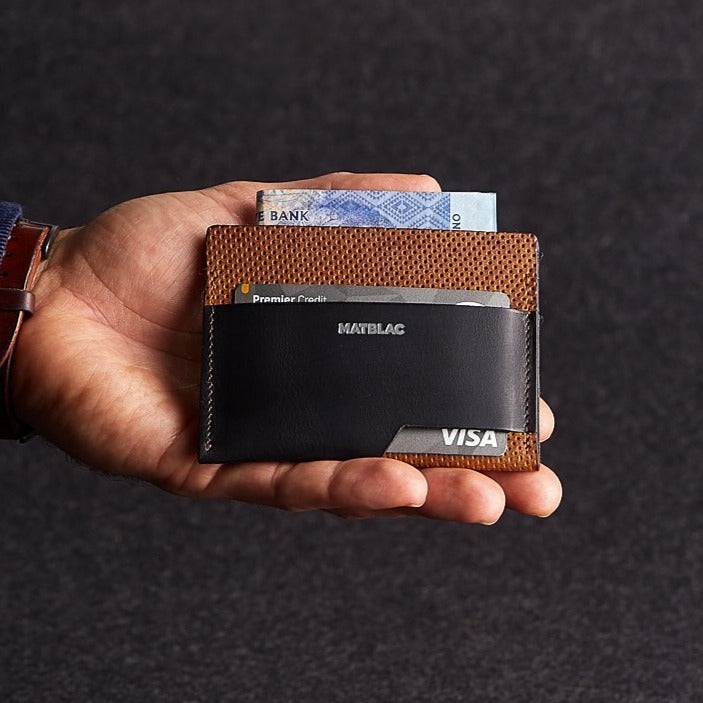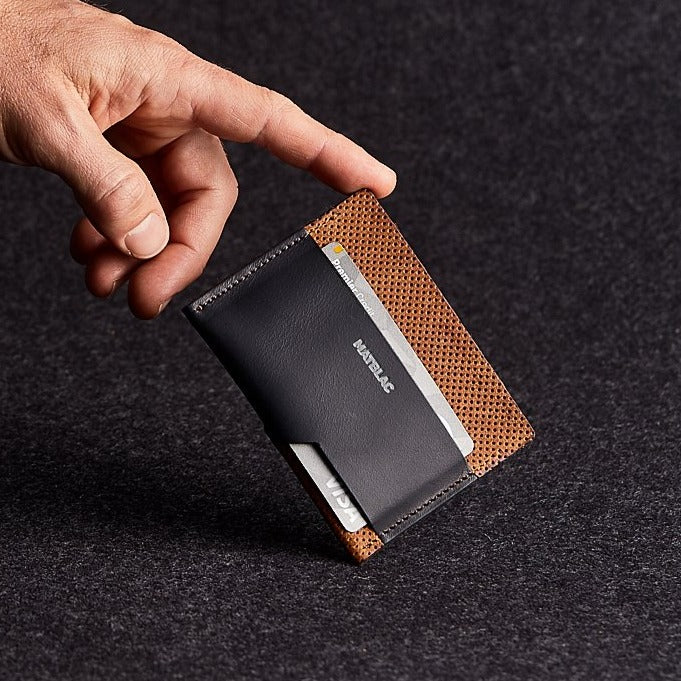 Brown Cash Slip
Tough, Cunning & Compact
Born to a 9-5 hardworking Mother and a hustling back-alley-envelope Father. This wallet grew up both book smart and street tough.
If you carry a few cards and cash, this is the wallet for you. Made from just two pieces of interlocking bull hide, one plain and one pinned, this ingenious origami-inspired design is the result of almost a year of tweaking and tinkering. 
Two outer pockets for a few cards
Centre pocket for more than a few folded notes. (They'll tuck right in so nobody makes eyes with your sweet stash.)
Sized to sit behind your phone or disappear into your back pocket without a bulge. There should only ever be one bulge in your pants.
10 x 7.5 cm
Buy one wallet you love, use it for years, and enjoy it every day.
Designed and crafted in the Matblac studio, Cape Town.
What's our leather like?

I put precious time into making each item. So I want it to last a long time.
This is why we use heavy duty boot grade leather, sometimes split a bit thinner but never compromising longevity. 
This means it will take a week or few for your item to 'break-in' and form around the unique contents you've placed inside.
You can speed up this natural forming process by firmly pressing and gripping your item around any tight areas while the contents are inside. Clenching your teeth and grunting angrily may help. 
Where did it come from?
Heaven.
An hour's scenic drive from our Studio is the small town of Wellington that does two things well. Leather and Brandy.
There lies our Tannery. They are the oldest tannery in the Southern Hemisphere and at 175 years old they really know what they're doing...until Friday's when they move over to the Brandy and don't know what they're doing.
During the week however, we work closely to produce leather of international Grade A quality right here in South Africa.
Arrives exceptionally packaged.
LOCAL (RSA)
Shipping is free.
We dispatch in 1-3 working days, with delivery taking another 2-4 working days.
But also, TIA and shit happens so if you need this by a certain date let me know in 'notes to seller' at checkout or give me a shout before ordering.
INTERNATIONAL
If you're international we meet you halfway at a subsidised R199 because you're supporting us from so far and thats awesome!
We dispatch via Fedex Priority every Friday morning, for delivery the following Wednesday/Thursday.
However global courier can offer surprises so please email me before ordering if you absolutely have to receive your order on a certain date.
Best
You make the best products! Thank you.
Huntsman Brown Cash Slip
Excellent service! Excellent product!
SUPERB!
I've been collecting Matblac pieces for about 8 years now. Every single touch point of the whole experience is exceptional. Smooth ordering experience, excellent service, fast response and the products delivered exceed all expectations. My personal collection count is now at 12 pieces and will certainly be back in the future to purchase more. There really is no one else in SA that works leather carry pieces like Mat, cannot recommend him more. Mr Excellence indeed.
Incredible service!
Thank you, Mathew, for the incredible service! The packaging was done so professionally. The quality of your work will always be something we brag about and we love telling people about MatBlac. The Hubby (whom I bought it for as a gift) loved the two tone effect and he used it daily. Thank you so much!