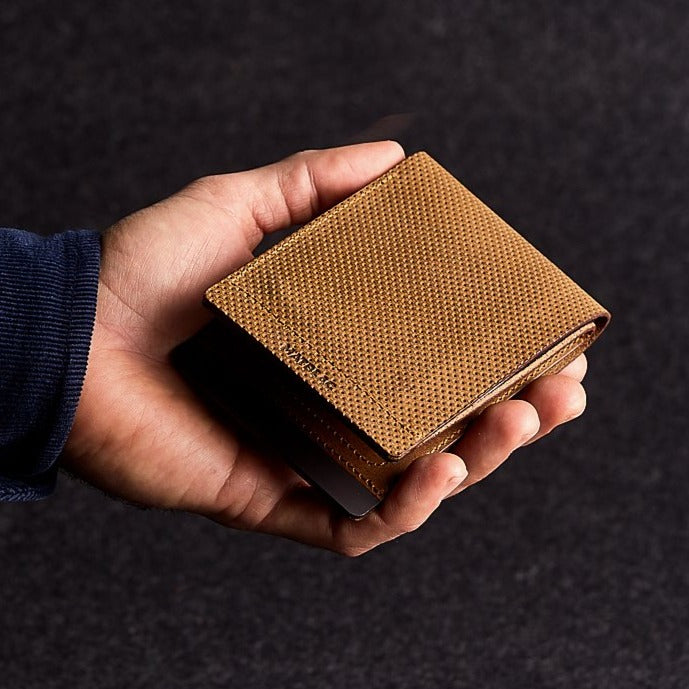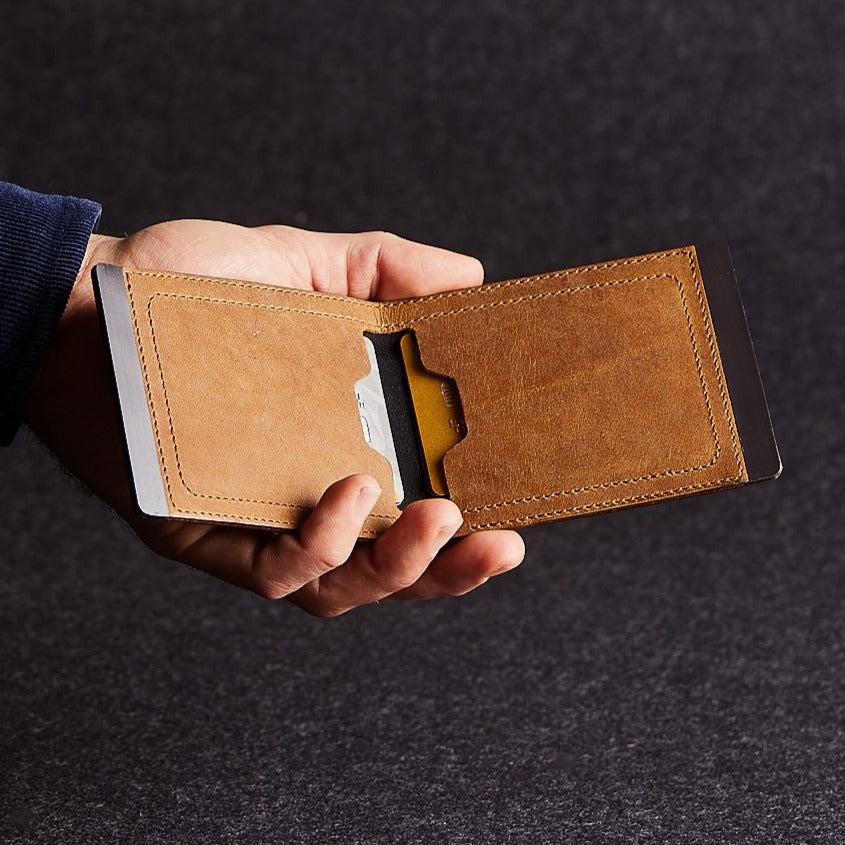 Brown Magnetic Billfold - LTD Edition
Say hello to our one-of-a-kind leather magnetic billfold wallet, perfected over 5 years. 
This is the most remarkable wallet you'll ever own, timeless yet unusual.
A feat of crafting prowess, the seamlessly integrated flexi-mag closure is strong enough to keep your cash and cards secure, yet has no effect on your cards. The two card slots face inwards and are backed with a 3-way stretch fabric that comfortably allows 4 cards per slot. 
Holds up to 8 cards and multiple bills

Flexi-mag closure for a neat and slim profile

Premium hand-burnished South African bull-hide inside and out

Perfectly fits notes up to 82mm deep

115 x 85 x 8mm 
A wallet is a representation of one's finances so keep things in order and be proud of what's in your pocket.
Designed and crafted in Cape Town, South Africa.
What's our leather like?

I put precious time into making each item. So I want it to last a long time.
This is why we use heavy duty boot grade leather, sometimes split a bit thinner but never compromising longevity. 
This means it will take a week or few for your item to 'break-in' and form around the unique contents you've placed inside.
You can speed up this natural forming process by firmly pressing and gripping your item around any tight areas while the contents are inside. Clenching your teeth and grunting angrily may help. 
Where did it come from?
Heaven.
An hour's scenic drive from our Studio is the small town of Wellington that does two things well. Leather and Brandy.
There lies our Tannery. They are the oldest tannery in the Southern Hemisphere and at 175 years old they really know what they're doing...until Friday's when they move over to the Brandy and don't know what they're doing.
During the week however, we work closely to produce leather of international Grade A quality right here in South Africa.
Arrives exceptionally packaged.
LOCAL (RSA)
Shipping is free.
We dispatch in 1-3 working days, with delivery taking another 2-4 working days.
But also, TIA and shit happens so if you need this by a certain date let me know in 'notes to seller' at checkout or give me a shout before ordering.
INTERNATIONAL
If you're international we meet you halfway at a subsidised R199 because you're supporting us from so far and thats awesome!
We dispatch via Fedex Priority every Friday morning, for delivery the following Wednesday/Thursday.
However global courier can offer surprises so please email me before ordering if you absolutely have to receive your order on a certain date.
Absolute quality and style!
I am an absolute wallet fanatic, I have searched far and wide and this is the best quality wallet money can buy. It's sleek, beautiful and bullet proof. I purchased another wallet a couple of years after receiving the first one simply because I love it so much and would dread not being able to get one again in the future. It has gone through the washing machine and swimming pools and came out unscathed. The leather is full grain leather and will last a life time. Like a great pair of jeans, everyone needs a great wallet like this. Worth every penny!
The Huntsman | Brown Leather Billfold Wallet (LTD PINNED EDITION)
Awesome product
Absolutely love it, the feel, the look.
The best wallet till date!
I've been using matblacs wallets since 9 years and this by far is the most perfect one yet! The pinned leather looks rich and the craftsmanship is amazing!